Data import with SMA SunnyExplorer
The Sunny Explorer is a software solution for reading the data from SMA inverters via Bluetooth. It is provided as freeware at www.sma.de and can be found under Support&Service-Downloads. The program can also save CSV files with the yield data to be used for PV-Log. It is self-explanatory and after installing it should find the system and already show daily, weekly and monthly yields. In order to upload to PV Log.com you will need CSV files. The internal data in Sunny Explorer is of a different and for PV-Log unusable format.

To export the required CSV file select the option Export Tools / Data from Extras in the menu bar.
In the box that appears, select the folder and the period for the data you wish to download.
Manual data transfer:

Sunny Explorer shows the previous daily yields in an overview on the screen. These can be entered manually at PV-Log. In order to do so log into PV-Log (or if you are already logged in, go to My Profile) and  go to "Automatic data import / data logger". Select "SMA" for data logger company and "Sunny Explorer" for model. Leave the transfer type empty in this case.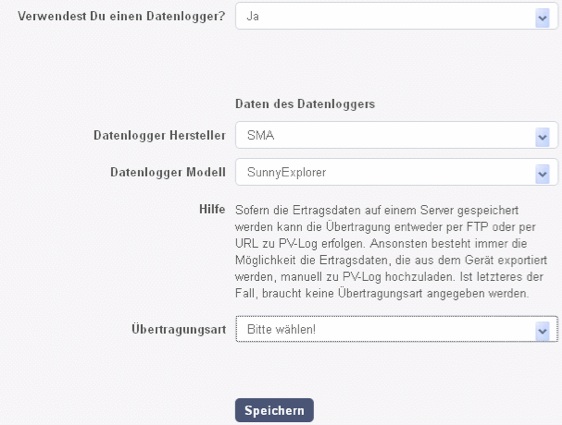 In "My Profile" under "Check and revise yield data/
Manual entry of yield values" you can now manually enter the daily values.

In "Upload yield data files" you can, in addition to monthly yield files, also upload daily yield files in CSV format from Sunny Explorer. The data will immediately be displayed in PV-Log.
Semi-automatic data transfer:

Log in to "My Profile" and go to "Automatic data import / Data logger". Now select "SMA" for data logger company, "Sunny Explorer" for model and "FTP" for transfer type.
Now please make note of the additions appearing for FTP server, FTP User and FTP password. Use this information in a suitable FTP client (e.g. FileZilla) and synchronize PV-Log with the folder of yield data on your computer. In this way you can quickly and easily transfer all existing data from previous periods to PV-Log.
Automatic data transfer:

With a little programming skills you can also leave the transfer entirely up to your computer. The procedure is described by Albrecht Reiber and the tool is available to download for free (http://www.albrechtreiber.de/datalogging.html). Add a bit of your ingenuity and you save yourself an expensive data logger.

 
For all types of transfer via FTP: PV-Log checks and updates new data approximately every hour. So you need to be a little patient to see the result.

 
For further questions and assistance, the PV-Log superusers are at your service.